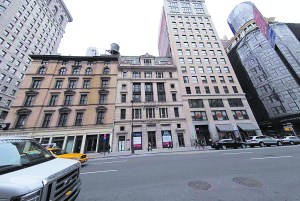 155 Fifth Avenue
There's good news this week for those perpetually late in ordering their holiday fruit baskets. Harry & David will open its first temporary location in New York City, just in time for some seasonal procrastination.
The Oregon-based maker of luxury fruit baskets has signed a four-month lease at 155 Fifth Avenue, in the Flatiron district, Crain's reports. The pop-up store will open this week, and includes 4,500 square feet on the ground floor, a 4,800-square-foot basement and a 2,100-square-foot mezzanine.
Asking rent for a long-term lease on the ground floor would be around $250 a square foot, according to Crain's.
"Their things are specially geared toward holiday time," said Robin Abrams, of Lansco Corp., who represented the landlord.
Those divine pears first came to New York City by mail from the Rosenburg brothers' orchard in Oregon. But they didn't sell well during last year's lean holiday season. Sales were down 13 percent, though in general the company's retail stores have fared slightly better than the mail-order business.
Even if the pop-up store does well, it's unlikely Harry and David will stick around once the twinkle lights are turned off.
"Like most companies that focus on gifts rather than self purchases, [Harry & David] does most of [its] business in the fourth quarter, so it won't be cost effective to pay New York City rents the other eight months of the year," Meredith Schwartz, of Gifts & Decorative Accessories magazine, told Crain's. But Ms. Schwartz said she could see the retailer popping up again around Mother's Day or Valentine's Day.
Ms. Abrams represented the landlord, the Eretz Group, along with Melissa Rose in-house. Newmark Knight Frank Retail represented Harry & David.