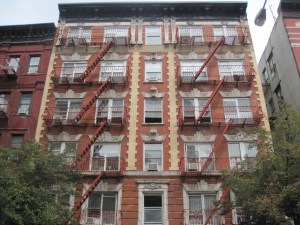 The last apartment in a trinity of Allen Ginsberg's former units 437 East 12th Street will hit the market next week, The Real Deal reports.
In a different era, Ginsberg rented not one, but three units in the building, where he worked, lived and played. Ginsberg and his long-time partner Peter Orlovsky lived in the East Village building for over two decades. There's still a story about the Howl poet for nearly every square foot of the apartment, from where he ate (Lanza's restaurant around the corner) to what he wore around the house (not much, apparently).
It must be the stardust, because the first two units were rented in a matter of hours, Citi Connection's Realty Dmitry Daniel Kamp told The Observer at the time. The last unit will be listed for $1,875 a month, so all you wanna-be beats, have your checkbooks ready for Monday.