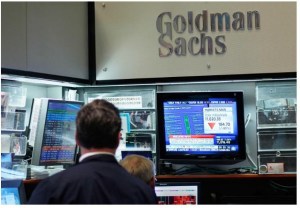 Goldman Sachs, the bank that leads the nation in profitability, is disbanding its principal strategies business, a unit of the company that trades the firm's own capital, Bloomberg reports.
Citing "two people with knowledge of the decision," Bloomberg said the decision was an effort to conform to new financial regulations. The so-called Volcker Rule, a part of the financial-reform legislation that President Obama signed in July, prohibits banks from conducting proprietary trading, which as the name sort of suggests, means trading one's own capital.
The fate of the traders on the principal strategies desk wasn't entirely clear. However!
Some traders and support staff may get roles within the firm, while a team in Asia may raise money for a new hedge fund, the people said. … The team's members in New York, led by Bob Howard, are in talks to join another asset-management firm, according to two people.
Ten percent of Goldman Sachs' revenue comes from proprietary trading.
Earlier this week, Bloomberg and The Wall Street Journal reported that JPMorgan was shutting its commodities proprietary trading desk. Fellow financial firm Citigroup sold its commodities trading business in October.
Update:
Here's a video from Bloomberg TV about the Goldman situation.