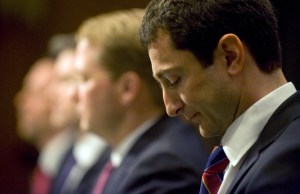 Lawyers for Fabrice Tourre told a federal court that the Goldman Sachs trader can't be sued by the Securities and Exchange Commission because Tourre's dealings in collateralized debt obligations didn't happened in America, Bloomberg reports.
The Supreme Court has said that if a foreigner buys a security that isn't from the U.S. on an exchange outside the U.S., securities laws don't apply, according to Tourre's lawyers. The Abacus CDOs at the center of the SEC complaint didn't clear on an exchange, and Dusseldorf-based IKB Deutsche Industriebank AG bought them.
"The complaint's failure to allege that any Abacus 2007-ACI transaction took place in the United States requires dismissal," Tourre's lawyers said. The SEC charged both Goldman and Tourre in April with misleading investors over the CDO deal. Goldman settled the SEC case against it by paying $550 million and agreeing to change some of its business practices.
mtaylor@observer.com
Twitter: @mbrookstaylor