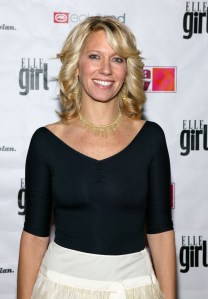 Luck be a lady… this morning!
Luck had nothing to do with it, of course. You're taking Lucky into the 21st century because of the great work you've done at Yahoo, Ms. Holley. Though, incidentally, we can't overestimate the importance of fate in the closing of Jane: As soon as Zooey went on the cover it was bound to happen.
Why, we've just noticed you're still in your bathrobe! Oh you work from home in Red Hook? Such is the blogging life, we're told. Well enjoy it while you can! Those jingle-jangle mornings will soon become literally so—the editor of Lucky is expected to wear no fewer than nine pieces of flare. We're told.
Well congratulations and we hope you enjoy your return to 4 Times Square's illustrious cafeteria. Until the move downtown, anyway.