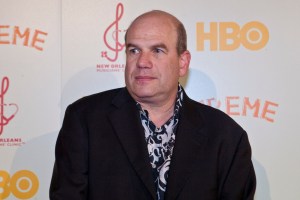 Congratulations, Mr. Simon. You're a genius.
It's something we've heard about you many times, but now, it seems, it's official. All that ham sandwich eating has paid off. All the hype about Treme seemed to be correct. You've given hope to reporters-turned-TV writers everywhere.
Perhaps the best part of your announcement is that we can now feel as good about watching your shows as we do about reading, say, David Foster Wallace. Who are we to question John D. and Catherine T.?
And you're in extremely good company this year, too, with Yiyun Li and Nicholas Benson. We love, love, what he's doing with headstones.
We hope you're well rested. People are going to want to talk about The Wire more than usual.
Love,
The Observer