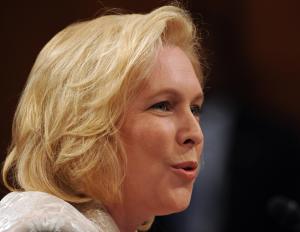 Slow down, Senator! How much coffee have you had this morning?
We were simply trying to congratulate you how you've positioned yourself heading into this day. After all, how many people can head into a potential Don't Ask Don't Tell vote after speaking to Lady Gaga? From Barry Blitt to Rafa, she's a well-loved American treasure. Anyone who opposes her, and by extension you, is going to look pretty silly. Not disco-ball-shards-on-your-face silly, but you catch our meaning.
Ten minutes isn't the longest time for a phone call, but do you think she's spend that kind of time with Diana Taylor? Don't be absurd! The two would have nothing to talk about. You should cultivate this budding relationship by inviting her over for some barbeque. We hear she's sort of into meat.
Anyway, good morning, Senator, and try to go easy on the red eyes.
Love,
The Observer