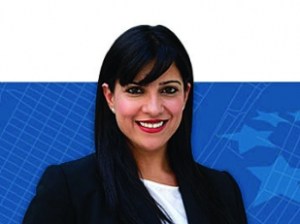 Big day, Ms. Saujani!
Today's the day we hit the polls and while we may not be entirely optimistic about you chances of winning (these posts usually celebrate people who have won the day in some form) we can honestly say we've enjoyed watching your progress. From your fresh-faced debut back in May to our recent endorsement, you've had the honor of being in one of the few races to watch this cycle. And, hey, at least the GOP is pulling for you.
Joking aside, you've got plenty of reasons to be positive today. Diana Taylor's come out strong for you, and moreover, Maloney's got the support of Chuck Schumer, which is sometimes a mixed blessing (just ask the Jelly pool parties). Worst-case scenario, there's always 2012, and for all we know people may love hedge funds again by that time.
Good luck today! We hope you're well rested.
Love,
The Observer