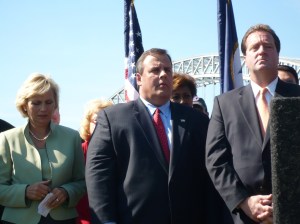 BAYONNE – Jobs being the theme of the week, Gov. Chris Christie is stringing together accomplishments at a nice clip.
Today he visited the Bayonne Bridge where the widening of the Panama Canal has had local port officials sweating for years because wider – and more importantly taller – ships will not be able to come to the largest ports on the east coast.
All they need is another 30 feet of height and today Christie and the Port Authority committed $1 billion to convert the bridge to accommodate taller ships.
"We've been working on this since I was elected (in 2006)," U.S. Rep. Albio Sires (D-West New York) said today with the Bayonne Bridge in the background. "We needed the hammer, and this governor is the hammer."
At stake was 270,000 jobs, Sires said, and a major supply line: 80 percent of the goods are consumed in the region; only 20 percent ship elsewhere, Sires said.
"Thank you to the governor," Sires said, among others. "I should have called him the hammer."
Sires got a laugh, and Bayonne Mayor Mark Smith, emceeing, said, "Congressman, I think he's been called worse…in the last few days."
"Hammer was better than 'wrecking ball'," Lt. Gov. Kim Guadagno said.
"Albio, thanks for the new nickname," Christie said. "That's what I needed, one more."
Christie said he met with labor groups last year during the election, and his promise to find a solution to the bridge problem was met with "skepticism."
"I met with all these groups and told them this would be the highest transportation priority," Christie said. His promise was met with a chorus of "This isn't going to happen," he said. "I like that challenge."
"We are going to hammer this project here, Congressman," Christie joked to Sires, "to make sure it's completed on time."
Christie answered question, including on another transportation project – possibly in jeopardy – the ARC Trans-Hudson Tunnel.
Democratic State Chairman and Assemblyman John Wisniewski (D-Sayreville) is suspicious that Christie is swinging tunnel funding to fill a hole in the Transportation Trust Fund, but Christie said he'll get a report from his administration on TTF options in October. So no such plan to swing the funding has been presented to him.
"I understand the Democratic state chairman is attempting to conflate these issues," Christie said.
Christie said an audit of the ARC project showed it was rushed to begin last June, possibly causing "significant cost overruns" in down the road.
He did all but point to that cost as a byproduct of election year stunt for Jon Corzine.
"I'm sure it was just a coincidence," Christie said tongue-in-cheek.
"I am not taking a flyer on a project that I don't know how I'm going to pay every nickel for," he said.
After saying the Bayonne Bridge was his number one priority, Christie was asked where the ARC Tunnel ranked.
"I never ranked past number one," Christie said.
Sires said afterwards that the bridge project is a much higher priority for him because of the number of long-term jobs at stake.