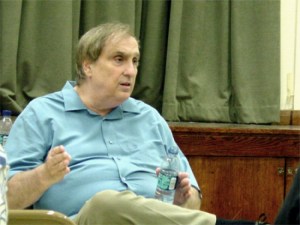 G.O.P. congressional candidate Michael Grimm is out with a release today that tries to tie Congressman Mike McMahon to much-investigated Democratic party boss and powerbroker Vito Lopez.
"Rep. McMahon doesn't have the guts to stand up to Vito Lopez any more than he'll stand up to Nancy Pelosi," said Grimm. "Lopez is a corrupt party boss who will stop at nothing to hoard power. And McMahon is content to look the other way as long as Lopez keeps helping him in his usual corrupt way.

"Rep. McMahon says he's an independent voice. But here in Brooklyn, he follows the corrupt Democratic Party boss, Vito Lopez. And down in Washington, he's the lap dog of Pelosi and her radical left-wing friends. Will the real Rep. McMahon please stand up?"
While Lopez did back McMahon both in 2008 and 2010, his endorsement was by no means decisive for McMahon. Most of the 13th congressional district is in Staten Island, even though the pocket of the district that includes Brooklyn is one of the more conservative leaning areas in the city.
What will remain interesting going forward is how much of an albatross Lopez becomes around the neck of Democrats.
We've reached out to the McMahon campaign for a response, will update when we receive one..
UPDATE: From Congressman Mike McMahon:
"Boy, his campaign is in worse shape than we thought. He has no grassroots support, no money, half of the Republican party here doesn't support him and he has nothing to talk about other than trying to make the city-wide gotcha-story of the day relevant to this campaign. Being the homegrown guy, I know what Staten Islanders and Brooklynites want, and it's jobs, school buses for their children, alleviation of the traffic congestion, safety and security."