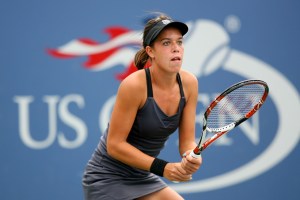 Alert: We have a new bubbly teenage tennis prodigy growing up at the U.S. Open.
Beatrice Capra defeated 18th ranked Aravane Rezai today in three sets. Capra is poised to play Maria Sharapova and (especially after Oudin's flameout), we've got a hungry press corps in deep search for a new young American.
"Congratulations! Now tell us your life story," said Bud Collins, to open up her press conference. Everyone, including a slightly dazed-looking Capra, laughed.
The 18-year-old is from Ellicott City Maryland (which Capra described as being full of farmland and "very small and dull"), and is ranked 371st in the world. Now she's going to the 3rd round of the U.S. Open and is–oh boy–guaranteed at least $50,000.
At one point during her presser today, she was speaking as a reporter started asking a question.
"Sorry!" said Capra, before quieting down.
The press room seemed stunned. She's deferring to a reporter? She obviously hasn't been through this before. Take advantage of it while you can!
Life story, life story! Her father is Italian, and her mother was a tennis instructor. How'd they meet and how did little Beatrice with the two-handed backhand come to be?
"He's from Monza (Italy), and he came over to start his business in America, which it's called the Tenax Corporation. It's an Italian company, so he started it in America. While he was there in Maryland, my mom taught tennis lessons. He wanted to take tennis lessons, so they met up and here I am."
Everyone burst into laughter again.
A year ago at this point, she was playing in Juniors. She said she has taken this year off to figure out whether she wants to go to Duke or not. This weekend, she'll play Maria Sharapova and it'll–more than likely–take place at Ashe and broadcast on CBS.
Welcome to the big leagues, Beatrice Capra!