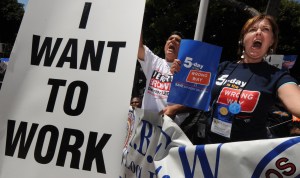 The Department of Labor today released its jobless claims numbers for the week ended Sept. 4. The number of people filing for unemployment benefits fell by 27,000 to 451,000.
The stock market appears to be rallying on the decline in unemployment claims, which was much larger than the decline of 2,000 economists had forecast. "Stocks Rise as Jobless Claims Fall," writes Forbes; "Hopes Rise as Jobless Claims Fall," says the AP; etc.
But wait. Calculated Risk points out that nine states experienced delays in filing their claims figures because of Labor Day weekend, so the number may well be higher than what's been reported today.