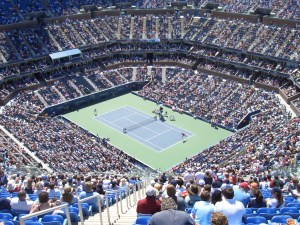 I took a trip yesterday to Section 317, Row Z, Seat 18 in Arthur Ashe, and–whoa–now I get why people started slapping each other. The altitude! My god, I was dizzy. I tried to take in a set of the Venus Williams-Shahrar Peer match, and it was hard to follow. Sound seems to travel slower up there. You can barely make out the squeaks of the shoes. You can barely hear a grunt. I didn't hear the ball. If anyone was actually near me, I think it's conceivable I would have thrown a punch too. Gratefully, as Venus and Peer entered that riveting 11th game of that first set that lasted more than 10 minutes, I was back in the press room to enjoy it.
Ashe's upper deck has been much-maligned over the years, but no one ever put it better than Peter Dizikes in a Slate piece when he likened the upper deck experience to "watching tennis through the wrong end of a telescope." The rows and rows of seats up there are about as steep as the old Yankee stadium, but at least a baseball field is enormous–there's lot of action to watch from up there. At a tennis match? It's a game of inches, and it's hard to even make out the players, let alone if a ball is in or out.
Ashe is a pretty great place to take in if you're courtside, or in a suite, or even in the lower section of the upper tier. But there's little point to buying a ticket and watching a match if you're headed for anywhere close to Row Z. Stay at home and watch it on TV.