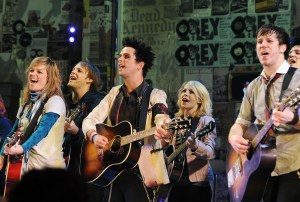 Last night, Billie Joe Armstrong, 38, frontman for Green Day, took over the role of St. Jimmy the drug dealer in the Broadway musical American Idiot. He will appear in the role until October 3.
You may be wondering how he did. Reviews of his individal performance were actually few and far between. Some found his performance "respectful." One gentleman found him "magnetic." We've assembled a slideshow.
VIEW SLIDESHOW > HOW WAS BILLIE JOE ARMSTRONG ON BROADWAY LAST NIGHT?