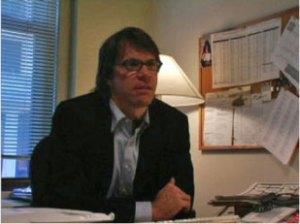 In a stunning move, The New York Times is expected to announce that Hugo Lindgren will be the next editor of The New York Times Magazine, according to three people familiar with the deal (UPDATE: It's now official. The announcement is at the bottom of this post).
Mr. Lindgren spent the last seven months as the executive editor at Bloomberg Businessweek. Prior to Businessweek, Mr. Lindgren was the editorial director at New York Magazine and an editor at The Times Magazine where he helped create "The Way We Live Now" section.
All summer, Times sources said that New Yorker Features editor Daniel Zalewski was the top candidate to get the job. As The Observer reported on Tuesday night, Mr. Zalewski recently turned that job down, and it was expected that executive editor Bill Keller would hire from within the Times newsroom. But, as when The Times made the surprising 11th-hour announcement that they had poached Sally Singer from Vogue for T, the top job at the Times Magazine will now go to someone that was on almost no one's short list during the three-month search process.
With Mr. Lindgren's hiring, an intriguing rivarly suddenly emerges between the Times Magazine and New York. Mr. Lindgren was hired twice by New York editor and former Times Magazine editor Adam Moss. Toward the end of Mr. Lindgren's most recent stint at New York, the relationship between the two became increasingly complicated and tense, sources said, and that was a reason, in part, that Mr. Lindgren found a new job. They parted amicably, but now Mr. Lindgren will take over a Magazine that maintains the basic template that Mr. Moss created and the two can duke it out on a weekly basis.
He also comes in at a time when many staffers grew embittered toward the state of the Magazine under the last couple years under Gerry Marzorati's leadership. Mr. Lindgren has some work to do to patch up relations with the staff there.
Mr. Lindgren was once an an editor at George and then became a senior editor at New York Magazine in the late '90s. During his first trip to New York, he was a senior editor with Ariel Kaminer and Susan Dominus, two columnists for the metro section of The Times now. When Ms. Kaminer left New York for the Times Magazine, she lobbied for Mr. Lindgren to join her to co-create the "Way We Live Now" section, according to a 1999 Observer story (which was written by, incidentally, current New York Magazine news editor Carl Swanson. Small town!). During the summer, Ms. Kaminer, according to sources, advised Bill Keller on some things she would like to see changed at the Times Magazine.
Mr. Lindgren has written extensively about music and sports.
UPDATE: Bill Keller releases his memo. Here it is
To the Staff:
Our search for the next editor of The New York Times Magazine has taken us to some of the masters of the genre and introduced us to some exciting dark horses. We have considered strong candidates within the paper and without, and enjoyed much discussion of what this journalistic treasure should be in its next incarnation. I'm quite delighted to report that the search ends now with Hugo Lindgren – a gifted editor who has helped breathe new life into two magazines and is fully ready to run his own.
It is something of a homecoming. Hugo worked at our magazine, helping invent "The Way We Live Now" franchise. He was lured away by Adam Moss when Adam moved to New York magazine. In March he assumed the executive editor job at Business Week after that troubled book was bought by Bloomberg and began a revival. He has written (extremely well) about business, architecture and pop music.
Hugo, who is 42, grew up in Manhattan, attended Trinity and Duke, and lives here with his wife, the writer Sarah Bernard, and their twin daughters.
"He's very smart, wildly creative and charismatic," says one editor who has worked closely with him. "People like him and want to do their best work for him. He just has a great magazine head."
The search took longer than I anticipated because there were so many credible candidates, but I could not be happier about the outcome.
Hugo will move in October 25.
I want to particularly thank Gerry Marzorati for keeping the magazine on form during our successor search while simultaneously taking up his new role as the newsroom's master entrepreneur and, not incidentally, blogging the U.S. Open. This Sunday's issue, with the cover on Glenn Beck, is a reminder that Gerry will be a hard act to follow. And my gratitude extends to Alex Star and the rest of the magazine staff for their energy, devotion, high standards and patience during this protracted process.
Best,
Bill