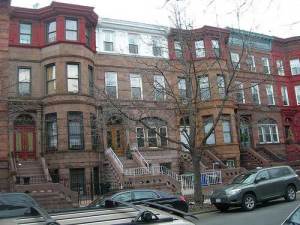 It's been a mantra in Bed-Stuy to say that if the bargains get big enough, more buyers will follow. Now, it may actually be coming true.
While prices in many neighborhoods have rebounded, Bed-Stuy is still scraping the bottom, the Wall Street Journal writes today. The median sales price in east Brooklyn fell to $340,000 this spring, down 40 percent from the pre-boom peak price of $570,000, according to a Miller Samuel report on residential prices.
But sales activity is up 64 percent, meaning the days of lonely open houses with plates of uneaten cookies may be ending.
Of course, there's little evidence that this means things are picking up in Bed-Stuy in particular, other than the Journal's suggestion that "there are more bargains for home buyers, some of them on display in open houses this weekend."
However, in one piece of good news for Bed-Stuy, where new condos have been looking particularly lonely, east Brooklyn condo sales were up slightly this spring.
At the very least, you have to admit that sellers in the home of Jay-Z and the "late notorious BIG," as the Journal deems him, stand to reap a whirlwind. As one real estate attorney, Douglas Heller, told The Real Deal in February, when places were going for $175 a square foot, it was only a matter of time. "A lot of neighborhoods go two steps forward, one step back," he said. "That's what happened in Williamsburg, and I believe that's what's happening in Bedford-Stuyvesant."