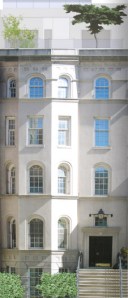 — It seemed if the price of Aby Rosen's apartment dropped any further, it would simply disappear. Now, seemingly, it has. The opulent townhouse at 3 East 94th Street is no longer available, according to Streeteasy.com. The listing has also disappeared.
Mr. Rosen's Carnegie Hill spot, which has its own fancy Web site, has undergone some extensive renovations, including the addition of a pool, since Mr. Rosen, of RFR Holdings fame, bought it for $8.8 million. The developer has cut the asking price from $29.5 million to $19.9 million since it went on the market this spring. No word yet on whether the listing is down merely temporarily, or whether the pool or dive in price have enticed a buyer.
Note, this isn't the first time one of Mr. Rosen's properties has pulled a disappearing act: His opulent mansion at 22 East 71st Street was also suddenly pulled from the market a couple of weeks ago. Now it's back.
— Venture capitalist Mark Lerner, whose divorce woes once served as a morality tale for philandering husbands everywhere, has sold his apartment at 200 East End Avenue for $2.3 million. Mr. Lerner's ex-wife, Stephanie, sued him for $25 million in 2008, alleging he gave her STDs picked up from visiting Asian brothels. The apartment was purchased by insurance exec Penny Hart. We can only wish her more health and happiness in her new home.
— George T. Frampton, who once had Al Gore's ear on environmental policy, has bought a spot on the Upper East Side for $1.8 million. The seller of 132 East 72nd Street is interior designer and Palm Beach socialite Pauline Pitt, who perhaps hopes to spend more time at her $14 million estate in Florida.
— Fine art, good wine and high fashion is the perfect frothy combination for a real estate transaction in the garment district. The loft at 361 West 36th Street owned by art restorer Susanne Schnitzer, who was killed in a hit-and-run last year, has sold for $2.3 million. The buyers are Elizabeth Penberthy, an executive at LaCoste, and Alessandro Lunardi, a wine dealer.