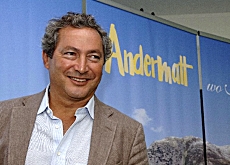 It's been hot in luxury apartment swapping lately, with places flying between billionaires, amater polo stars and minor celebs like there was a fire sale. Let the good times roll.
—Egyptian hotel czar Samih Sawiris has grabbed a luxurious pad at Emery Roth's 417 Park Avenue for $7.25 million. Mr. Sawiris, who Forbes ranks the 396th richest person in the world with $2.9 billion and change, controls Orascom Hotels and Development, the real estate and hotel arm of his family's empire. He'll take the place off the hands of Brazillian commodities trader and one-time amateur polo star Marcello Dorea. Mr. Sawiris bought for well under the $8 million asking price—a great deal, as if he needed it.
—The rock n' roll couple who purchased Heidi Klum's 166 Bank Street penthouse a couple of years ago have sold the third-floor unit they vacated to move up to Ms. Klum's swank spot. Steve Joester, a gallery owner and one-time rock photographer, and his wife, Debra, sold part of the apartment before the market tanked and have now shaken the other half for $2.45 million—a fraction, of course, of the $5.6 million they paid for the place upstairs.
—The head of one of Australia's largest clothing conglomerates, Naomi Milgrom, has bought a midtown apartment for $1.175 million from Elliman broker and former Avon exec Clyde Butler. Could this mean the Sussan clothing line will also soon be heading north? We'll have to wait and see.
—The East Village home of the late Alvin Klein, The New York Times critic who made and ended many a theatrical career, has sold for $1.35 million.
—A beautiful Upper West Side townhouse traded for just under $3.8 million. This rare 1904 elevator townhouse just off Central Park is the new home of Forest City Ratner VP Matthew Messinger and his wife.
—Senior Sony exec Natalie Margulies and KPMG partner Howard Steinberg have nabbed a Lenox Hill duplex for $1.325 million.
lkusisto@observer.com