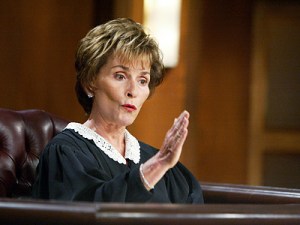 Who will keep the Sutton Place community board in order now? New York's snarkiest legal minds, Judge Judy and her husband Jerry, have sold their penthouse at 60 Sutton Place for $2.25 million. The twice-married judges, whose real names of course are Gerald and Judith Sheindlin, have come a long way since Ms. Sheindlin was a Manhattan family court prosecutor. The sprawling two-floor unit in one of the city's swishiest neighborhoods features two outdoor terraces, wood-burning fireplaces and an elaborate décor.
The mailing address on the deed is in Naples, Florida, but given that Ms. Sheindlin has renewed her TV contract through to 2013, we doubt she's retiring. The fiesty judge averaged 6 million viewers in the most recent season, though if any of her Sutton Place neighbors are amongst them we doubt they'll admit it.
For more dedicated legal television buffs comes the news that minor Law & Order personality Francie Swift has bought an apartment at 2 East End Avenue for $1.6 million. Younger viewers might be more familiar with Ms. Swift's role as Nate and Jenny Archibald's narcissistic mother on Gossip Girl. Ms. Swift will settle down with her partner, Brad Blumenfeld, VP of real estate developer the Blumenfeld Group.
Mexico's former finance secretary has snatched up a spot in Lenox Hill for $1.475 million. After his tenure as the man who helped engineer the country's economic turnaround, Pedro Aspe came to New York to found Protego, a boutique investment bank. He's purchased his spacious new home at 130 East 63rd Street from William Tully, the rector of St. Bartholomew's Church on Park Avenue. The unit was listed in July, and went into contract barely a month. "Hurry, won't last!" Indeed it did not.