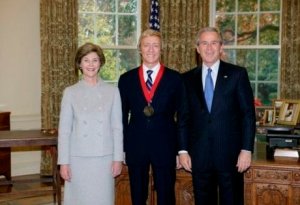 — A landmark apartment has been sold by an antiques man. Leslie Keno, one of the stars of Antiques Roadshow and a senior VP and specialist in American Furniture and Decorative Arts at Sotheby's, has sold his four-bedroom, four-bathroom condo at Manhattan's one-and-only castle, 455 Central Park West, the converted New York Cancer Hospital. Mr. Keno was the first into the sprawling, two-turretted abode after the completion of the hospital's renovation.
The buyer is star fund manager, Charles "Chuck" de Lardemelle, a French ex-pat who founded International Value Advisers in 2007 and paid $5.65 million for the home, down from a September 2009 first ask of $7.5 million. That's a net gain of $560,531 from Mr. Keno's 2006 purchase.
— Caipirinhas for everyone! Or maybe a nice espresso, courtesy of Brazilian coffee exporter Tristão, which has sold a three-bedroom, three-bathroom floor-through condo to countryman Tufi Duek, a women's fashion designer. The Viscaya condo at 110 East 71st Street, which had been in Tristão's hands for 26 years, was picked up for a handy discount of $445,000 from March, for a final sale price of $2.5 million.
— As previously reported in The Real Deal, Lawrence Gluck flipped 5 West 91st Street to distressed property investor Gaia Real Estate. According to city records, the final price for the 48-unit former Mitchell-Llama building was $16.75 million, a modest but not-bad-for-today's-economy profit of $2.75 million on what Gluck's Town House West LLC paid in 2006.