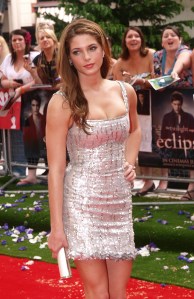 — Twilight Vampirette Ashley Greene has signed a lease at 2 Cooper Square, reports the Post. The blood-sucking sweetheart of Joe Jonas was rumored to be on the hunt for a Manhattan home and it looks like she found one at the Bowery rental building, part of the neighborhood's Disneyland renovation. According to the Post, Ms. Greene has rented a one-bedroom–rents start at $4,000–that she will share with her dog.
— After setting the blogosphere on fire with speculation every which way, the arguments for and against Tiger Woods moving to downtown Manhattan are stacking up. This morning Page Six reports there is no way Mr. Woods is moving into the 1980s Hudson Street conversion where witnesses allegedly caught him moving boxes into from his BMW. The gossip column presents a valid argument from Real Estate sources:
And non-real estate sources point out that Mr. Woods is known for avoiding the city and staying on his yacht, The Privacy, when attending the U.S. Open at Bethpage.
— A six-bedroom apartment with a 40-foot-long living and dining room at 535 West End Avenue has gone into contract for $10.75 million,
according to Streeteasy
. The new West Side conversion, where Matt Damon was rumored to be apartment hunting, has pulled some confusing pricing shenanigans, such as selling units for up to 40 percent off and this strange trajectory: being pulled off the market in 2008 before being relisted yesterday, already in contract. Hmmm, must be some really good marketing to sell it in zero time.