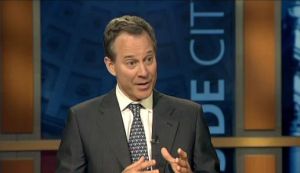 Eric Schneiderman has only been the Democratic nominee for attorney general for a few hours, and he is already out of the gate with a letter to his G.O.P. opponent, Dan Donovan, challenging him to a debate on financial regulation.
"While you've suggested in recent interviews that you would seek to relax the focus of the Attorney General's office when it comes to cracking down on these crimes, vowing not to 'disturb the garden,' I intend to make protecting homeowners and consumers from bad actors on Wall Street a key concern," Schneiderman writes in the letter.
Both the current occupant of the attorney general's office, Andrew Cuomo, and his predecessor, Eliot Spitzer, made national fame for themselves by cracking down on Wall Street, and Schneiderman's makes a pointed reference in the letter to follow Cuomo's example, even though the two have not always seen eye-to-eye.
Donovan meanwhile has gone on the offensive as well this morning, rolling out an endorsement from former Mayor (and Democrat) Ed Koch, whose popularity in older and Jewish precints of New York makes him one of the few endorsers who can actually move votes.
We will have a report from that press conference when it is over.
Schneiderman's letter in full below:
Donovan 2010
126 Fifth Avenue
Second Floor
New York, NY 10011

Dear Mr. Donovan,

I hope this note finds you well. I am looking forward to a positive and substantive campaign where we can put forward our visions to voters in a rigorous way.

To that end, one of the areas where we diverge is on how we would approach Wall Street and crack down on financial crimes.

While you've suggested in recent interviews that you would seek to relax the focus of the Attorney General's office when it comes to cracking down on these crimes, vowing not to "disturb the garden," I intend to make protecting homeowners and consumers from bad actors on Wall Street a key concern, as it has been for Andrew Cuomo.

Given our honest difference of opinion on this issue, I would like to invite you to join me in a debate specifically on our approaches to Wall Street, to be hosted by an independent moderator. It is my hope that we may engage in an honest back-and-forth on this vital issue, so that voters will know where we stand.

Thank you for your consideration.

Sincerely,
Eric T. Schneiderman