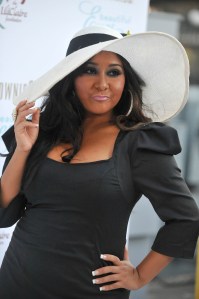 – OK, this is hilarious. A quote about Carl Paladino from one of his former classmates in the college's newspaper: "I think he is a nut, a complete and total nut. He is crazy. I would never vote for him even if he paid me, which he probably would."
– Uh oh. Someone found a live bug crawling out of her wrap from Chop't. Gross. Photo included. BUT WE LOVE CHOP'T. Dilemma.
– Thank God! Snooki got a book deal. She says she's only read Dear John and Twilight. If she writes a Nicholas Sparks style vampire-meets-Guidette story, all will be right in the world.
– James O'Keefe's partner "explains" their prank. He says Boudreau "is a hard-boiled reporter — she's capable of handling her own." Yeah, you're missing the point, buddy.
– Things you need: Steampunk iPhone!