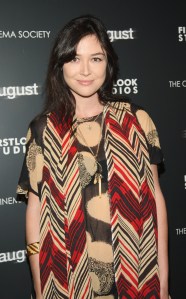 Yesterday, in what surely had to be one of the most entertaining marketing shenanigans of Fashion Week, British Bag maker Anya Hindmarch gathered a bunch of young ladies about town for a treasure hunt around the meat-packing district.
The group of mostly young, mainly blonde and all-thin women gathered in the Hindmarch showroom. Lured by the promise of a free bag whether they participated in the hunt or not, the ladies drank champagne and had their nails done as they waited nervously to see what their tasks would be. Hindmarch had provided her patrons with special sneakers just for the occasion, knowing that the cobblestone streets of the meatpacking district are the natural enemy of the spike-heeled set.
Kate Shelter, a photographer, wearing Daisy Duke leather hotpants and six-inch heels, gratefully took the proffered flats. The hosts of the event, Tarajia Morrell and Chessy Wilson knew the format of the event in advance and dressed accordingly in flats and cowboy boots.
There were a few quiet moans of, "Do we have to do this?" before the group split into teams and was given a list of assignments to complete. Some of the "challenges" were seemingly easy to complete, like getting a parking pass (100 points), and some were clearly going to be a little harder, such as "Have sex with a bartender after getting a free shot poured in your mouth (2000 points)."
Setting off like a gaggle of sorority girls on rush week, The Observer accompanied a leggy blonde who worked in real estate called Josselyn who fell at the first hurdle trying to borrow a bra from the bartenders at Hogs and Heifers. "We'll swap you one of ours for one of yours," she pleaded. The bartenders refused on the grounds that the bras were really only "decoration" and couldn't be removed. "We'll pinky swear that no other team will get it," promised the toned-looking brunette bartender wearing what looked like a Superman-print bikini top.
Better luck at the Standard Hotel, where the concierge helpfully printed off Tom Cruise's signature, "famous autograph" (100 points) and agreed to pose with a photo proclaiming, "I love handbags" (100 points). Josselyn ran into the rest of her teammates who were photographing each other doing handstands with no underwear (1000).
Before heading to the Score strip club on what could've easily been described as a suicide mission to try and persuade the strippers to lend the socialites their delicates, time ran out and it was back to the showroom.
Points were swiftly counted and Anya Hindmarch's team won the prize of the night, a gift certificate to the Standard. The only thing the guests were really concerned about was what was going to happen to all the photographic evidence.