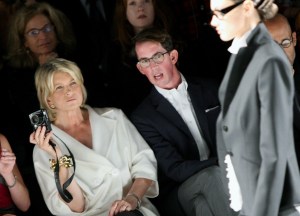 Martha Stewart has raised her hand to carry on the torch of Barbara Walters and Larry King.
"My favorite interviewers are Larry King [and] Barbara Walters, both of whom are kind of retiring," Stewart told reporters yesterday, according to the New York Post. "Who's going to take their place as the serious, great interviewer? I'm throwing my name in there, because I love to talk to people."
If you're famous and you love to do something, then you're the best at it by default. But seriously, who has done a better Snoop Dogg interview?
Mr. Stewart is moving The Martha Stewart Show over to the Hallmark Channel this month, and she's also planning a monthly interview series called Martha Stewart Presents. She said she wants to interview Michelle Obama, Hillary Clinton and Nancy Pelosi.
"I love to do this stuff," she said. "It's more a pleasure than an effort for me."
Snoop wants green brownies: