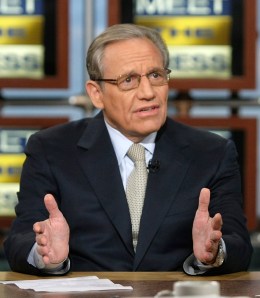 Promises. Betrayed loyalty. Scoops. Speed-reading. Advance copies. Smoking Xerox machines. This is the story of how The New York Times' Peter Baker scooped the Washington Post on the release of Bob Woodward's latest book, Obama's War.
The Washington Post made an agreement with Simon & Schuster, the publisher of Mr. Woodward's book, not to run an item about the book until next Monday. But The Times got a copy on Tuesday of this week and Peter Baker, who left the Post for The Times in the spring of 2008, rushed a story out that night. This involved a team of five Times reporters splitting up the book and reading through for the juiciest anecdotes as quickly as possible. "We were under no embargo," Mr. Baker told Politico. "We obtained the book independent of anything like that. Therefore, we have no obligation to any ground rules that we didn't agree to." (Tangentially: The Times had to append a correction to Mr. Baker's story about quotations attributed to White House special envoy Richard Holbrooke. Nytpicker notes that it is the fourteenth time The Times has agreed to correct Mr. Holbrooke's record.)
Post associate editor Steve Luxenberg sort of expected this to happen, and he had a write-up of the book waiting on a flash drive ready to go in the paper. The Times put their story up before he had a chance to cut them off (he was not a happy camper while he was waiting for that flash drive to load). Mr. Luxenberg told his colleague, Post media columnist Howard Kurtz, and Politico's Keach Hagey that this didn't really count as a scoop becuase the newspaper was under an agreement with the publisher. "We're in an impossible position. We prefer to honor our agreements than to publish something before we're permitted," Mr. Luxenberg told Mr. Kurtz.
Ms. Mr. Hagey notes that the Post has a fine tradition of scooping other papers dating back to the '70s, especially on books.
In 1978, the Times bought the rights to syndicate sections of a book by Richard Nixon's chief of staff, H.R. Haldeman. It resold some of them to Newsweek for $125,000, and to local newspapers across the country for $5,000 a pop. The carefully orchestrated roll-out came crashing down, however, when the Post got hold of a bootleg copy of the book and published a long excerpt.
But in recent years what happened this week has been the norm. In 2008, Fox News scooped the Post on Mr. Woodward's The War Within. In 2006, with State of Denial, both NBC Nightly News and The Times beat the Post. Mr. Woodward works as a contractor for the Post after taking a buyout around the same time that Mr. Baker left. The Post will go ahead and run excerpts from the book as scheduled next week.