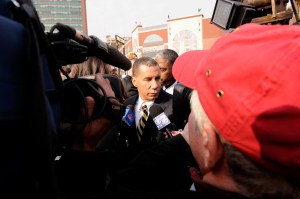 "I'm looking at the calendar each day and I'm so sad … he is working soooo hard," wrote Karen Boykin-Towns to one of Governor David Paterson's top aides, David Johnson, on Jan. 22.
It was the Friday of what had been a very bad week in the press for those rooting for Mr. Paterson–lackluster poll numbers, a meager financial filing and, on that same day, the abrupt resignation of Tracy Sefl, one of his struggling campaign's crucial staffers.
"I tell myself you guys must have a system where it looks worse than it really is :)," wrote Ms. Boykin-Towns.
In the midst of the public-relations breakdown that would eventually lead to the end of Mr. Paterson's reelection campaign, email messages to and from three top Paterson aides–obtained by The Observer under the Freedom of Information Act–show an administration trying to defend itself on an ever increasing number of fronts and sympathetic friends trying to bolster spirits.
The Observer requested emails received and sent by Mr. Johnson, Special Assistant Clemmie Harris, Communications Director Peter Kauffmann and Press Secretary Marissa Shorenstein over a period of 15 months, but the administration replied with only a selection of messages; no emails for Ms. Shorenstein and very few of Mr. Kauffmann's were provided. Other media outlets have had similar experiences; the Columbia Journalism Review announced last week it will sue the administration after it was flatly denied emails for either press aide.
On Jan. 29, the governor announced the winner of the long-delayed lucrative contract to develop a casino at the Aqueduct racetrack in Queens. Soon there were reports of a federal investigation into how the contract was decided; a week later, rumors began to swirl that The New York Times was sitting on a story that would force Mr. Paterson's immediate resignation.
"Is the gov going to STRIKE back and do smackdown? Of NYT?" asked Bill White, then the head of the Intrepid Museum, who wrote frequently to Mr. Johnson to offer advice on how to rehabilitate the governor's image and fend off the looming threat of a challenge from Attorney General Andrew Cuomo.
"Yes," replied Mr. Johnson, with typical brevity.
But no amount of smacking could quell the rumors, though the communications staff tried to swat away stories where it could.
In one of the few exchanges with the press provided to The Observer, Mr. Kauffmann accused Erik Engquist, a reporter for Crain's, on Feb. 4 of "a lack of journalistic integrity," for a "gossip item" that was to run the next day about the Times rumors.
"You're welcome to accuse us of a lack of journalistic integrity tomorrow, but to do so before we've published anything seems premature," wrote Mr. Engquist.
"Fair enough," Mr. Kauffmann wrote. "I will wait until tomorrow then."
The following week, when Mr. Engquist wrote to question the governor's negative public comments about the story, Mr. Kaufmann chided the paper as the "first legitimate news outlet to print an item about rumor and innuendo with no independent sourcing or information."
When The Times finally ran a relatively innocuous story on Mr. Johnson's youthful transgressions on Feb. 16, well-wishers emailed Mr. Johnson to offer their support.
"The more attention you get the more attention people want to give you," wrote President Obama's body man, Reggie Love, who said he "enjoyed reading" the story. "Proud to see you've never let up."
Mr. Johnson mostly responded with brief notes of appreciation, but in one reply, he thanked God for his supportive friends.
"I pray that I never let you or anybody else down," he wrote. "Just like our ancestors we have challenges put before us to pave the way for our youth. I am proud to be that vessel. I accept the challenge. Just so you know I am loyal, fully focused and will continue to press on."
"As they told me after my first big story about me 'welcome to the BIG leagues'!" wrote lobbyist Charles Breslin, a former aide to Pennsylvania Governor Ed Rendell. Mr. Breslin, who in 2002 was arrested for possession of heroin, had been in frequent contact with Mr. Johnson regarding potential state contracts. "You look GREAT!" he wrote.
Eight days later, after The Times published the much more damaging account of the governor's intervention in Mr. Johnson's domestic dispute, Mr. Breslin was one of the few who emailed. "Call me I want to hire you during this time if your [sic] allowed to advise my company on a part time basis," he wrote.
Mr. Breslin did not return requests for comment. An attorney for Mr. Johnson, Oscar Michelen, said he did not accept Mr. Breslin's offer and remains suspended without pay by the state.