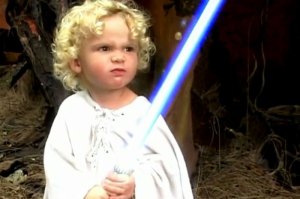 This morning, the Guggenheim Museum announced the shortlist for its "YouTube Play, A Biennial of Creative Video" contest that has generated some 23,000 submissions since it began in June. The shortlist has been narrowed down from that astonishing number to 125 semi-finalists, all of them competing for the 20 top spots that will be exhibited at the museum's New York, Bilbao, Berlin and Venice locations.
The shortlist offers a handful of unique specimens, from Three 6 Mafia played over Alice in Wonderland to the adorable story of a man who uploads himself to his iPhone.
"[T]his is all just advertisement oriented," accused one user. Maybe, Theblitz1! There is a big HP logo at the bottom of each video. But most of the videos seem to reject this intersection of technology and modern life. The Times points to an anti-tech screed called "Yelp," a play on "Howl."
Below are two choice examples from the shortlist, a Star Wars tribute from the "experimental" category and a newspaper satire from the "animation" category.
The finalists will be announced at a museum event on October 21.