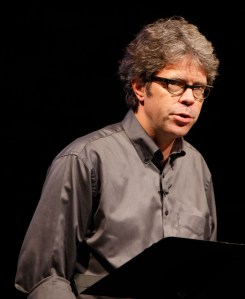 The New York Times is among several sources now reporting that Oprah Winfrey has chosen Jonathan Franzen's Freedom for her next book club selection. The news breaks ahead of the official announcement tomorrow and would mean that the two have resolved their differences stemming from the authors' perceived slight after Winfrey selected The Corrections in 2001.
Citing "booksellers who have seen early copies" of editions with the Oprah logo, as well as a blog post we covered yesterday, The Times seems fairly confident in the news' accuracy.The AP has also jumped on the bandwagon, citing three anonymous booksellers.
The AP's write-up also includes an interaction that could mean absolutely anything, given the pair's history.
At an appearance in Manhattan last week, the author was asked by an audience member if Oprah had been "in touch."

"Next question, please," Mr. Franzen responded.
Good news for Franzen, if it's true! We'd love to see him actually stop by the show this time.