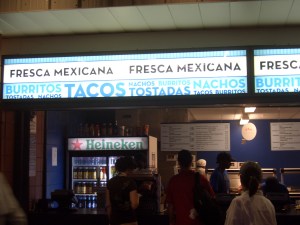 Times restuarant critic Sam Sifton strode into Queens yesterday and evaluated the grub I'm gonna be living off of for the next two weeks at the Open. He was not happy! He said it was fatty, expensive and "not very good." Also, it didn't make him feel very good. And you wonder why I'm feeling a little nuts these days!
To the tape! Mr. Sifton's reviews on some of the options:
THE HAMBURGER: He gave it a C. It was "juicy and not overcooked, but it was hardly rare and it was hardly seasoned, on a pillow of potato bun with some wilted lettuce and a couple of slices of tomato. It seemed a cross between a griddled diner hamburger and an overcooked bar-menu fatboy burger."

FRESCA MEXICANA: It left him "reeling." "They were violently bad: fried 'fish' cooked to the texture of a burned, unsalted Frito, then piled into thick, bready, cold flour tortillas along with some vegetable matter: two per taco, each the consistency of half-cooked Pepperidge Farm white bread. The only edible part of that meal was the lime wedge thrown into the paper basket along with the tacos."

THE $17.50 LOBSTER ROLL: "That lobster roll was a grim business, and especially so because New York is in the midst of a lobster-roll moment. The notion that someone would dump guacamole on top of lobster meat in New York City in 2010 almost boggles the mind."
Mr. Sifton's said there is simply too much food produced at too quick a scale. Simplicity works best and the Open's concessions fails. This is not good news for me! Back to the media dining room, I suppose.