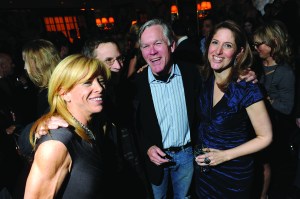 Over the summer, two weeklies announced job searches for two editors. It's autumn now, and The New York Times Magazine and Newsweek are still on the hunt. So where do things stand with the two biggest media stories of the moment?
When Bill Keller announced that Gerry Marzorati's time as editor of The Times Magazine was finished–at a time when many former and current staffers were feeling embittered about the state of the magazine–he said a replacement would be named by the end of August.
Well, it's now the end of September, and Mr. Marzorati's lame-duck term is ripening. Trying to discern a short list of candidates is a wild guessing game even within the Times Building.
Here is what we do know: Daniel Zalewski, the features editor of The New Yorker, who edits big names like Jane Mayer, George Packer and Lawrence Wright, was recently offered the job and turned it down. Mr. Zalewski, a former story editor at The Times Magazine, was seen as the front-runner all summer long, and his candidacy was an open secret within The New Yorker offices. After going through the interview process, The Times said it was his job if he wanted it, and that's when Mr. Zalewski walked away. In turn, sources said, Mr. Zalewski, has gotten some perks from The New Yorker, including a David Remnick-like deal that will allow him to write more for the magazine. Plus, some assistant help! He declined to comment.
The prospect of Mr. Zalewski's hiring offered delicious potential: A real-life weekly magazine war raging in New York and a genuine old-fashioned rivalry between the two weeklies. Mr. Zalewski wouldn't have the same resources at his disposal as he does with Condé Nast, but his writers are devoted to him, and it wouldn't have been a surprise to see some of them defect.
RELATED > SEE THE WINNERS OF ASME'S BEST MAGAZINE COVER COMPETITION
And now that The Times has lost out on its chance with Mr. Zalewski, where does it go from here? One high-ranking source tells us that even though Mr. Keller wanted to give a healthy look to outside candidates, it seems more and more likely that The Times is going to find an editor from within 620 Eighth Avenue. Names we keep hearing: Business columnist Joe Nocera, Week in Review editor Sam Tanenhaus and editorial deputy editor David Shipley. If The Times does hire within, the paper won't exactly match the wow factor when it managed to poach Sally Singer from Vogue for the T Magazine job.
Asked about the status of the search, Mr. Keller would only say in an email, "We're pretty close."
Speaking of the Times magazines, Ms. Singer is pulling together her first issue at T. Sources tell us that Mick Jagger will be Ms. Singer's first cover, in December, and that photographer Max Vadukul will do the shoot. Times sources also said that Ms. Singer has assigned a piece on autism. With a surprising cover choice like Mick Jagger, and autism pieces in the magazine, isn't Ms. Singer's T beginning to look a little like … The Times Magazine?
With a new editor presumably a couple months away from really getting started at The Times Magazine, Ms. Singer is clearly taking the Stefano Tonchi ad-friendly version of T in a slightly different direction, and encroaching on the weekly magazine's turf. Ms. Singer, who is already a hit with the masthead and execs at the company, was feted this weekend by Arthur Sulzberger and Times Company CEO Janet Robinson at Palazzo Marino across from La Scala in a party in Milan. Fancy!
Ms. Singer, emailing from Paris, said, "I don't really feel comfortable discussing the holiday issue because it's still being put together and all sorts of things could happen."
And what's happening with Newsweek?
The Daily Beast and Newsweek merger rumors are out there, and Sidney Harman and Barry Diller are talking seriously. The question is whether they'll pull the trigger. The deal obviously makes the most sense for Mr. Harman since Tina Brown's stature will suspend all the Newsweek obituaries. It also allows Mr. Diller not to worry that Ms. Brown will get bored and fly the coop (as she usually does), and would give him a teammate in working with the Daily Beast Web site.
It will be interesting to see how Ms. Brown works with Representative Jane Harman, if a deal came to pass, but it's a deal Mr. Harman should jump at.
jkoblin@observer.com
RELATED > SEE THE WINNERS OF ASME'S BEST MAGAZINE COVER COMPETITION