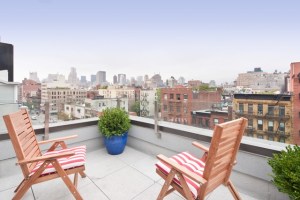 The junkies are pretty much gone, as are the restaurant supply stores. Popping up in their place are high-end pizza (Pulino), wienies (DBGBs), and condos, including 263 Bowery, which replaced one such supply shop.
From the penthouse unit you can gaze down on the grit-meets-glamour street life that is today's Bowery. There's ample opportunity from the two balconies, a terrace, and a roof deck. (There's almost more outdoor space than indoors.)
Details include a sleek staircase that leads from the keyed elevator to the great room with its wraparound view. All three bedrooms have access to the outdoor space, and the two bathrooms are large and generous. The unit is repped by Elliman's De Niro group, which means if you buy the $3.995 million pad, you might get the chance to meet the actor's son Raphael.
Sid, Nancy, and Joey Ramone might not live here anymore, but there's nothing stopping you.
It's Free to Look: The Bowery Is Your Oyster