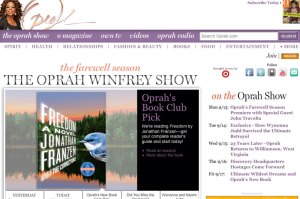 Oprah Winfrey has announced her next book club selection on her website ahead of her show today. As it was widely reported yesterday, it's Jonathan Franzen's Freedom.
Before the rumors started flying, the possibility of Ms. Winfrey selecting the book seemed slim, thanks to a public falling out between the TV host and author following his lukewarm reaction to her picking The Corrections in 2001.
Then, O, The Oprah Magazine left the book off its "Ten Titles to Pick Up" list, despite the fact that it had been hyped all summer. The magazine is almost completely independent from the show, so perhaps they were merely trying to curry favor with the boss—or maybe this was a recent decision on Ms. Winfrey's part.
Hooray for Franzen! Perhaps this will finally kill the media frenzy surrounding the book.