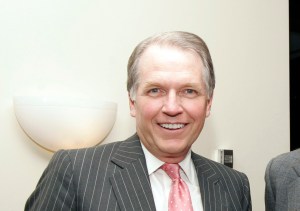 This just in from the department of second chances: Jeffrey Peek, who helped steward financial-services firm CIT Group into its November 2009 bankruptcy, has landed a new gig as vice chairman of Barclays Capital's investment banking division.
From 2003 to 2009, Peek's tenure as CEO of CIT was marked by an effort to bring the firm into Wall Street's big leagues. His expansion of the commercial lender into subprime mortgages proved ill-fated, and the company exited subprime in 2007. Peek resigned from CIT in October of last year. The firm's bankruptcy proceedings included the loss of $2.33 billion in taxpayer funds under the government's Troubled Asset Relief Program.
"Our clients will benefit from the unique depth and diversity of his experience across a broad spectrum of strategic and financial issues. We look forward to the contributions he will make to the firm and to our clients," said Barclays Capital head of investment banking Skip McGee in an announcement of the hire.
After ex-AIG CEO Marty Sullivan found a new perch at Willis Group, it looks as though the cadre of CEOs whose companies were crippled by the credit crisis are getting a new breath of life this week.