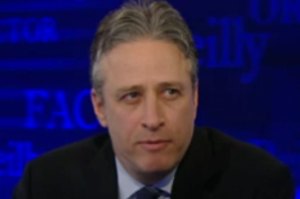 After an initial battle that required some eight months recovery time, The LA Times reports that Jon Stewart will return to The O'Reilly Factor to promote his new book Earth (The Book), the follow-up to America (The Book).
A rumble for the ages! Well, not really. Despite great ratings, February's back-to-back Factors featuring Stewart were actually pretty tame. O'Reilly's ribbing could only be described as gentle. Stewart would often raise his eyebrows with an "okay, if you say so" expression on his face, but mostly focused his criticism on the more extreme elements of the channel, like Glenn Beck. Many of his jokes had O'Reilly's producers chuckling off-camera.
But get ready for round two! How is this not on pay-per-view? Stewart's last visit to the show can be seen below.
Watch the latest video at <a href="http://video.foxnews.com" mce_href="http://video.foxnews.com">video.foxnews.com</a>