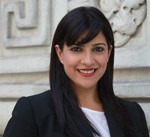 A lot has been made in the last few days about Reshma Saujani's primary loss to Carolyn Maloney. Despite a number of flattering profiles and a number of bold-faced backers–who helped her raise more than $1.3 million–Saujani was walloped on Election Day by over 60 points.
How bad was it?
Not only did Saujani spend over $200 per vote, but she was outclassed Tuesday night by Patricia Maher. Maher, who ran against Queens Congressman Gary Ackerman, got over 30 percent of the vote and notched almost 1,000 more votes than Saujani–despite raising only $6,000, almost all of which came from her own pocketbook.
Maher, who lives on Long Island, told The Observer that most of her money was spent on legal fees, since Ackerman succeeded in getting her booted from the ballot, before she won her appeal. As a result, Maher did not know whether she would actually be on the ballot until a few weeks before the primary.
"I was really very pleased with [the result], too," Maher said. "A couple of more weeks, even another month would have been great."
And while Saujani blitzed residents of the Upper East Side and Queens with mailers and TV ads and robocalls, Maher said she could only afford two robocalls, and one direct mailer to just 5,000 residents–fewer people than voted for her on Tuesday. She ended up with more than one vote for each dollar she spent.
"I did a lot of press. I answered newspaper reporter's calls all the time. Without the resources, I had to," Maher said.
Maher said her campaign was focused on three things–the debt, the health care bill–which she called the "1099 tax"–and what she termed "Jewish issues."
"There are things, like Israel, that we thought Congressman Ackerman had not been helpful on, had been silent about," she said.
And while Saujani left her job as a hedge fund lawyer last year, Maher said that she was not able to campaign as much as she liked because she had to return to her job at a health care non-profit.
The two candidates do have one thing in common. Like Saujani, who talked about running in 2012 even before the votes were cast, Maher said she would like to take another shot too.
"I want to go back to that seat in two years. I loved the district. I loved Queens," she said. "I am just a woman who wants to get elected."