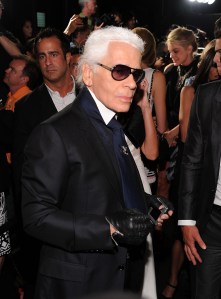 As is customary, the waiters at last night's opening of the new Chanel boutique in Soho had trays carrying a variety of things. Hovering around the room were plates of champagne, caviar-topped hors d'oeuvres, white wine, cans of spray paint, vodka gimlets—wait, spray paint? Well, it wasn't the real deal, but the electric walls built around the Peter Morino-designed store would light up a la graffiti when "sprayed" by the electric cylinders. And that's just what was going on during the walk in.
The store itself glowed a blinding white as the well-lit guests mingled to music picked out by guest DJ Alexa Chung, the former MTV host. Lynn Wyatt, dressed to kill in a black Chanel matador's outfit, spoke softly to Vanity Fair's Bob Colacello. Diane Kruger made small talk with Russell Simmons, who came with his signature Yankee cap.
Lovely jewelry designer Gaia Repossi, in a peach-colored 1970s style pantsuit number, was scoping out Chanel's new downtown digs. "It's very fresh here," she said. "I would rather shop at Chanel in Soho than uptown." She went back to chatting with her friend Clemence Posey, best-known for her role as Fleur Delacour in Harry Potter movies and soon to be Chuck Bass's new squeeze on Gossip Girl.
And speaking of the many flames of Chuck Bass, Leighton Meester — Blair Waldorf on Gossip Girl — spoke to The Observer about filming the new season in Paris, away from her place in New York. "It's pretty lame, but I really miss my couch, I miss my own bed, I miss my closet," she told us. "I was gone for so long and I only had the stuff that was in my suitcase. You almost forget some of those amazing pieces that you have and you come back and it's like 'Oh! Hey!'"
Liv Tyler, wearing all black and standing near the headphone-clad Ms. Chung in her booth, told us she's also still on a New York high, having just finished a two-year stint in L.A. When asked what she missed the most, Ms. Tyler let out a sighing "Everything."
"Like, the simplest pleasures" she told us. "Yesterday I couldn't get a cab in Tribeca and I had to walk all the way home. There was a windstorm, and my hair was blowing all over the place, and the sun was setting and I was so happy to just be at home, in New York, when I couldn't get a cab."
Ms. Tyler told us she didn't want to give away her secrets, but, when pressed, mentioned Corner Bistro as a favorite. She likes to go for "a pint and a whiskey."
Eventually Karl Lagerfeld arrived, and order was restored at the new Chanel store. Unlike the scores of icons milling around the room exposed, Lagerfeld had a squadron of bodyguards who blocked off the back corner of the store. There Karl presided, king-like, in his big sunglasses and shock of white hair. Few were allowed in; like the Godfather, Karl would give a slight nod to his men if he approved their presence.
Back in the plebeian parts of the Chanel boutique, we chatted with Alexa Chung, who was hanging around Ms. Tyler, about how her DJ set went. "I wish it was louder!" she said in that peppy English accent. "In my own area I was rocking it, if you were down by the DJ booth." We assured her we stopped by, and that, yes, it was rocking.
Ms. Chung said she wouldn't be hitting the decks again this Fashion Week, but she did offer some tips to those saddled with the task.
"I really like 60s music and things like that. I always play "Under My Thumb," you know, Rolling Stones—you can't really go wrong with them. Also The Smiths. People usually respond quite well to The Smiths."
The trays of gimlets soon ran out, and the only drinks in the room were headed to Karl and his inner circle (We even saw a caterer physically wrench one of these drink back from a woman. That's service!).
But Chanel would not disappoint. Soon enough there were waiters with bottles of champagne ready to refill our glass at any time. And when the guests had their share of the bubbly, the lucky ones went off to the dinner Lagerfeld was hosting down the street. The unlucky ones… well, they went anywhere else.