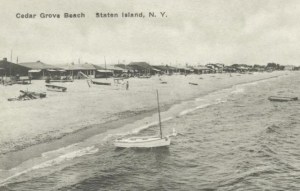 In 10 days, residents of the Cedar Grove Beach Community on Staten Island's South Shore will pack up after another blissful summer. They've been doing it for 99 years. But this time, the ritual is bittersweet, for it will be their last. The city has decided it will not renew the community's lease, which it took control of shortly after Robert Moses annexed much of the South Shore for what wound up being an unbuilt extension to the Belt Parkway.
Such beach communities used to line the entire south side of Staten Island, serving as a summer respite for the island's middle-class residents. Only Cedar Grove managed to survive Moses, continuing for another four decades–thanks in part to the legal acumen of one of its residents, who hammered out the first of the community's rental agreements with the city. It was nearly washed away during the Great Nor'Easter of '92, which destroyed about half the bungalows on the beach, but those that remained carried on the annual tradition.
The Parks Department, which oversees the lease, argues Cedar Grove has had a longer run than anyone else on the beach, and it's time to share–there are plans to increase public access, though no one is barred from the beach at the moment. Cedar Grovers counter that the department has neglected many of the neighboring beaches for decades, some of which have been closed this year due to current budget shortfalls, and so there is no reason to shut down this well-maintained beach without the money to keep it open. Not to mention Parks is making money off the annual leases.
Yesterday, a group of Grovers held a rally at City Hall, asking Mayor Bloomberg to save the community. He happened to show up, and even paused for pictures with a sign declaring, "Parks Must Reconsider." The Real Estate Desk checked with administration spokesman Jason Post to see if this was a real possibility. Mr. Post shot back a curt email: "No." Three minutes later he followed up:
To be clear, that is "no" to reconsider.

Also I wouldn't use the word "takeover"–their lease is up, they were given 2010 as "one last season" at their club and signed an agreement agreeing to vacate this year.
And so, after nearly a century, Cedar Grove is finally all washed up.