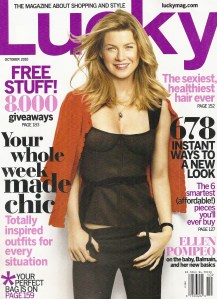 Two weeks after Brandon Holley took over at Lucky, the magazine's creative director and managing editor are out the door.
Stefano Tonchi hired away Lucky's managing editor Regan Solmo to fill in for Larry Karol, who is leaving W to manage Architectural Digest when it moves to New York. Mr. Karol's heart is in shelter, according to Memo Pad, so when he heard AD was moving to New York he decided to return to the magazine, where he worked for 10 years earlier in his career. That makes two managing editors in three issues for Mr. Tonchi.
Lucky creative director Andrea Linett decided to leave the magazine with Ms. Holley's blessing, according to The Daily. Ms. Linett worked very closely with Kim France, who left suddenly and silenty to make room for Ms. Holley. Ms. Holley has yet to name a replacement for Ms. Linnett, and she promoted Ms. Solmo's deputy, Faye Chiu Mosley, to take over as managing editor.