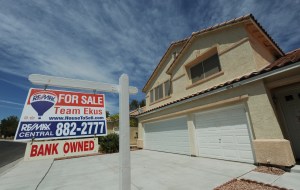 The heartwarming stories of people who are avoiding dubious foreclosures carry with them a perverse downside: Legal wrangling over foreclosure filings will prolong the time it takes for U.S. home prices to find a bottom, Bloomberg reports.
Former General Motors subsidiary GMAC has lately drawn attention as lawyers charged that the mortgage lender had hastily filed to foreclose on homes. One GMAC signing officer said in depositions that he has signed thousands of foreclosure documents in a month, without knowing key details about the mortgages those documents represented. Many of the documents were not properly notarized, either. These missteps could potentially invalidate a whole slew of foreclosures.
And while that's surely welcome news for people who've had their homes taken from them improperly, the ensuing fight over what should happen to the houses will keep the housing market from bottoming.
The poorly executed foreclosure documents are indicative of staffs at mortgage servicers having trouble keeping up with the flood of defaults. And now the sloppy execution is putting more strain on the system as lawyers begin to contest the proceedings.
The legal gum-up will prevent houses from re-entering the market, creating a scenario where extra supply remains hidden and prices stay higher than they "should" be. And the longer it takes for the supply to come to market, the longer we'll have to wait for a housing recovery. Hopefully a few deserving homeowners can keep their houses. Given the way banks have been handling foreclosures lately, it's not impossible to imagine such an outcome.