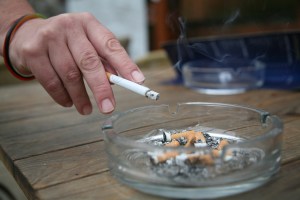 For the moment, bargain-hunting smokers can still hike upstate to Indian reservations for cheap cartons of cigarettes — and David Paterson is less than pleased. In June, the Governor signed the far-reaching bill that would force retailers on reservations to buy cigarettes at fully taxed wholesale prices. The ordinance was set to go into effect Wednesday, but before it could begin a District Court allowed the Seneca and Cayuga tribes to be exempt from the tariff.
Now, Paterson is fighting to keep the plan intact and met with ten tribal leaders yesterday as part of the effort. (The tax bump is worth an estimated $150 million in revenue.) "I find it frustrating," Paterson told WOR 710-AM, as reported by the Post. "Some of the groups — not all, but some of them — only came to the table to negotiate at the last minute because they didn't think that we would actually implement this."
There is a hearing before an appeals panel scheduled for next Thursday in Rochester, and Paterson is quite serious about denying New Yorkers their last in-state outpost of reasonably priced smokes.
"This is just a delay to an inevitable decision" he said. "We still believe our legal case is strong."
Unless there is more court interference, the cartons bought at reservations will soon become just as pricey as those sold in the city. Smoke 'em if you got 'em, New Yorkers.