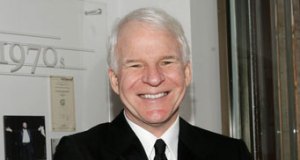 Today the web has dragged in more signs and wonders. Signs that critics of Tea Party-backed Delaware Senate Republican primary winner Christine O'Donnell may be onto something in fearing she's too bananas to be elected, wonders at how porn parodists ever managed to make a Human Centipede ripoff that isn't illegal in the United States. The web has dragged in a goodie basket of antisexual, antisocial craziness. (And Steve Martin, for balance!)
1. Christine O'Donnell Doesn't Want You To Do That Thing There
Last night was a good night for Tea Party Republican Senate candidate Christine O'Donnell. She's now just one voter's day away from going to the senate. Or not. Even Karl Rove doesn't want O'Donnell as the Republican nominee in the Delaware race, but O'Donnell forges ahead with a moral certainty worthy of Sarah Palin, a certainty she's clearly possessed since she was a young thing crusading against the vicious pink peril of onanism. Rachel Maddow tells us more below.
2. Just When You Thought it Was Safe to Hate Twitter Again, Look Who Shows Up
Steve Martin has slung his banjo behind his back and dived right into this here Twitter thing. The end-result is predictable: "My publicist is nervous about my becoming a Tweeter. He says celebrities tend to make such monumental gaffes. He's such a typical Wop!" Predictably hilarious, that is. Go see Mr. Martin's account to follow the funny trail of tweeted apologies after that gem.
3. Porn Parodists Busily Parodying Things That Are Already Parodies of Themselves
We'll not be prurient here. We'll just tell you that someone made a porn parody of Human Centipede, that movie about–well, you can Google it. Here, via New York Magazine (they did it first, we'll blame them), is the NSFW-ish trailer. We advise you not click on it or ever think about this sort of thing again.
http://www.youtube.com/watch?v=rBalKXCaXOM&feature=player_embedded