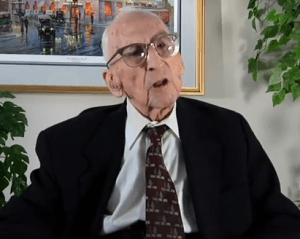 This edition "Look What the Web Dragged In" is a bit like the Benjamin Button of brief roundups of flaky or interesting stuff on the Internet. We'll begin with hearing from a very old man that the secret of living a very long and fruitful life–long enough to eventually be celebrated for just having made it that far–is apparently telling other people they're overweight, or something like that. Then we'll spiral back in time to college for a moment to watch as a class at NYU has the coolest guest lecturer experience–ever–before we end with childrens' programming, glassy-eyed puppets and Elmo.
When We're 114 Years Old, We'll Probably Be Dead
Walter Breuning is the oldest living human. At 114, he has been alive in three centuries. This delightful video is Breuning talking about his life. He covers the Great Depression, the Model T and the advent of the computer age. It's genuine living history and funny, to boot. Breuning's secret to living so long? According to him, it's diet.
The Coolest Guest Lecturer Ever
Jon Stewart showed up to give a surprise lecture to a media studies class at NYU. The looks on the students' faces pretty much tell the story. Favorite line in the brief clip below: "I don't know where you can buy pot."
Parents Object to Katy Perry's Big, Uh, Eyes on Sesame Street
We did not expect to address this again, but Katy Perry's music video with Sesame Street's adorable mascot Elmo has surged back up to the top of the apple barrel during our morning cyber bobbing contest. Parents apparently objected to Ms. Perry's large blue eyes and the glassy way they lasered through little Elmo, prompting the legendary kid's show to issue a statement to the effect that they will not air the segment, saying that due to negative feedback after the video was released on Youtube, they "have decided we will not air the segment on the television broadcast of Sesame Street, which is aimed at preschoolers." Yes, we're certain Ms. Perry's eyes were the problem. Sure.
http://www.youtube.com/watch?v=blE9qg-hCkc&feature=player_embedded