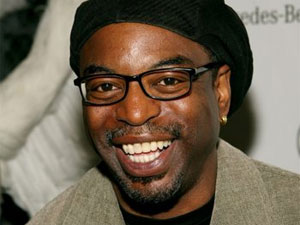 Today the web has dragged in an opportunity to purchase Twitter validation from your favorite celebrity. We've also got a video that may make you feel almost as sad and weird as the subject of the video himself and finally the cutest doggone little cow you will see today. Or ever, even.
1. Buy Twitter Validation From Famous People Like LeVar Burton
Twitchange says it seeks to use the power of Twitter and Twitter celebs to do good things. Non-celebrity tweeters get to bid on a chance to "be followed by their favorite celebrity on Twitter, retweeted, or mentioned by them in a special tweet!" The full list of celeb tweeters available is here and the website claims proceeds will go to numerous worthwhile charities. There are names like Justin Bieber, Rainn Wilson and Alicia Keys on the list but our sentimental favorite is actor, director and educator LeVar Burton. Who doesn't love this guy?
http://www.youtube.com/watch?v=d1BrWVDwVPM
2. Calling Christopher Nolan on the Red Courtesy Phone
This frightening young man really wants to be the Joker. Please get in touch with him, Christopher Nolan; the safety of his home community may be at stake.
3. A Cow, A Cow, a Very Tiny Cow
The Guinness Book of World Records is about to come out, so some of the record-holders got together to hang out for the cameras. Our favorite is 33-inch high Swallow, a tiny cow from West Yorkshire in the UK. Swallow (who doesn't really have enough screen time in the video below) gives an idea as to where the fashion accessory pets of the future may be headed.
http://www.youtube.com/watch?v=DXRukUa7N4A&feature=player_embedded