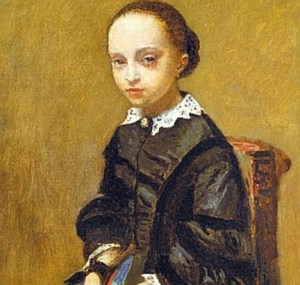 Welcome to the second installment of OBSERVER.COM's lunchtime rundown of the juicy (or at least pleasantly moist) stuff you may have missed on the Web.
1. Conan O'Brien's New Show Has a Surprising Title
The towering ginger ninja of comedy has been sequestered with his writers and the execs at TBS and after a lot of grinding and smoking, a few lost limbs and perhaps a tragically misplaced semicolon or three, Conan O'Brien's new TBS show has a title: Conan. Mr. O'Brien addresses his bold new adventure in nomenclature below.
2. Next Time You Lose Your Keys, Think of James Carl Haggerty
Everyone forgets their stuff from time to time. People lose keys, wallets, purses and $1.4 million masterpieces by Corot. Well, that last is probably not so common–unless you're James Carl Haggerty. Mr. Haggerty was transporting a friend's print of Jean-Baptiste-Camille Corot's "Portrait of a Girl" to a meeting with a dealer to appraise the painting's worth. This part of the festivities went down as it was supposed to; it was only after Haggerty went to a hotel bar that everything went so very wrong. He apparently got schnockered and at some point between leaving the hotel and arriving at his apartment building, lost track of the Corot. Haggerty's former friends and former owners of the Corot filed suit August 30 in the New York State Supreme Court.
3. Darius McCollum Dials it Back
Mr. McCollum, age 45, is famously obsessed with mass transit. He's been arrested many times after finding himself unable to rein in his obsession, perhaps most famously for his 1981 train trek to the World Trade Center. McCollum, working on a smaller scale, took a bus this time. He found a key in an empty bus in Hoboken and that was pretty much it. Cops picked him up in Queens. Reached at her home in North Carolina, McCollum's mother told the Daily News that her son "loves trains more than anything else – buses are his second choice." McCollum, his mother says, is also (ominously) fond of planes.