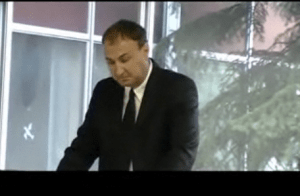 Today we want to show you only one item we found, dewy and new, on our cyber-doorstep this morning. That's what we want to do, but we won't. Still, this item and the man in it are very much of the moment. And it proves that when Will Ferrell created the indelible SNL character Jacob Silj, who suffered from "Voice Immodulation Syndrome," he was onto something.
1. Truly, He Was a Man Who Said Things Loudly
Phil Davison summoned the kind of passion in his quest for a county treasurer position that most of us only dream of unleashing on an audience. Recorded for posterity and uploaded to Youtube, Davison's speech was an almost Shakespearian marvel of righteousness, ambition and borderline insanity. Speaking to Politico about the video of his wild harangue becoming a Youtube viral sensation, Davison said, "It's shocking. I don't know what to say. I'm speechless […] I was emotional last night. I'm truly passionate about what I believe in." Davison also told Talking Points Memo that he wants to form "a radical branch of the Republican Party," because, you know, no one's trying to do that sort of thing right now. As for his status as a new viral video celebrity, Davison asked TPM, "is there a YouTube?" Clearly, if his video launches him as a new star in the political firmament, Davison will be right at home.
http://www.youtube.com/watch?v=IMgyi57s-A4
2. Everything is Funnier Done A-Cappella
Via io9 we learn that someone has re-tooled the trailer for Inception with an amateur a-cappella soundtrack. It's ridiculous, very funny and a nice break from what the world is throwing our way on a Friday afternoon.