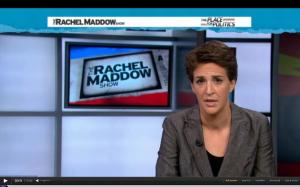 On Aug. 11, real estate blog Curbed posted a seemingly innocuous scoop: Rachel Maddow and her partner, Susan Mikula, had bought Michael Stipe's old apartment at 130 Jane Street for a cool $1.25 million.
The blogger, Sara Polsky, also posted photos and a floorplan for the apartment, apparently attained from Corcoran's Web site. So far, so good.
But Ms. Maddow, seemingly unfamiliar with New York's celebrity-intoxicated real estate press, was not pleased.
On Sunday, she told New York magazine, "They may get a lot of page views for that, but I think they would have gotten just as many page views if they had redacted my address and considered my safety and privacy. Whoever at Curbed decided the actual address and floor plan was necessary to get those page views, I hope they die in a fire."
Ms. Polsky did not immediately respond to a request for comment.