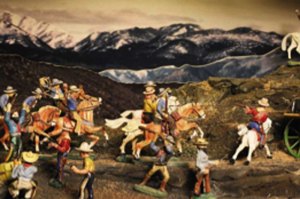 When very rich people talk about their toys, they are almost always speaking euphemistically–about, say, a 1927 Model X Duesenberg. But the late Malcolm Forbes' notoriously expensive toy collection, a collection of actual toys, will soon head to Sotheby's, the auction house announced today.
The collection will remain on display at the Forbes Gallery on Fifth Avenue, where it's been for the past 25 years, until the auction in December. Mr. Forbes, father of Steve and founder of the magazine, was known for his kooky collections. As The Times said in his 1990 obituary: "Mr. Forbes seemed to exemplify a kind of gleeful capitalism that relished the things that money could buy, from macho symbols like the 68 motorcycles he owned to an extensive collection of Faberge eggs."
Standout items in the auction include a model of the Lusitania, expected to go for between $100,000 and $200,000, and one of the first ever Monopoly boards ever produced, expected to sell for between $60,000 and $80,000. All the toys, combined, are expected to bring in some $5 million.