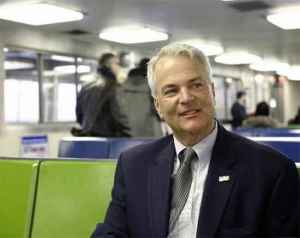 Congressman Mike McMahon has quietly posted to his Facebook page his first television ad of the campaign season. Called "Who Cares," the ad gives the full Staten Island–McMahon leaning out over the ferry, clips from the Staten Island Advance, footage of Fresh Kills landfill and Ground Zero (where many many Staten Islanders died on 9/11.) There is even (I think) footage of McMahon walking in front of The Staaten, an old school island hang-out for the borough's politicos.
The piece begins with McMahon saying, "I'm Mike McMahon and I approve this message because Staten Island is home," and then a narrator takes over:
The fighter for Staten Island, Mike McMahon fought over-development and made sure that Fresh Kills landfill remained closed. Now he is fighting to expand health benefits for veterans and to finally get the heroes of 9/11 the health care they deserve . And Mike McMahon voted against the health care law because it hurts Staten Island hospitals and it cuts Medicare for seniors. Mike McMahon: our independent voice.
According to the campaign, the ad is going to run on cable, and run often until Election Day. Details of the size of the ad buy were not immediately available.
The Politicker was tipped off to the ad by McMahon's opponent, Republican Mike Grimm, who hit McMahon for not saying he would support the repeal of Obamacare (even though McMahon voted against it) and for his vote for Nancy Pelosi for Speaker. Says Grimm:
If Congressman McMahon were peddling a product instead of his liberal politics, his advertisements would be pulled for false advertising. McMahon thinks the voters are foolish enough to believe he is against Obamacare simply because Nancy Pelosi gave him permission to vote "no." The fact is that Mike McMahon is a career politician who has voted 92% of the time with Nancy Pelosi and President Obama and will continue to do so if re-elected.
Congressional prognosticators generally consider McMahon to be safe. The Rothenberg Political Report lists it as a seat in play, but as "Democrat favored," which is the furthest category away from toss-up. The district however is one that John McCain carried in 2008.
UPDATE:
McMahon campaign spokeswoman Laruen Amendolara took issue with Grimm's comments, and sent along the following, taking up a line used by Michael Allegretti in the G.O.P. primary.
Mr. Grimm 's allegation that Congressman McMahon's ad is false advertising is desperate, at best. The difference between the Congressman and Mr. Grimm is that Congressman McMahon actually did vote against the health care bill twice, as his ad indicates. Mr. Grimm, on the other hand, proactively used photos of himself decorated with medals he never earned."
See the entire video below: