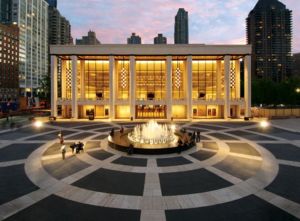 With New York City Opera's season opening only a few weeks away, the company has taken on new leadership after years of troubled finances and a muddled sense of its mission. Charles R. Wall, who served on City Opera's board from 2001 to 2008, was elected chairman of the company's board on Thursday.
"The board is there to assure that we have good corporate governance of the company," Mr. Wall told the Observer in his first interview since becoming chairman. "That we have the very best management that we can have, that we raise the funds, that we have the money, and that that money is spent reasonably and reliably and transparently. And that we are good financial stewards of the company."
Mr. Wall returns to a company still in serious financial trouble; Bloomberg News has reported that City Opera's deficit for the 2008-09 season–the most recent for which information is available–was $19.9 million. But he said that the company was already in much better shape.
"I think we're pretty close to a balanced budget right now for this coming fiscal year," Mr. Wall said. "We're going to be very close, we might be–well, I don't want to be too encouraging here. We're going to be right on target. But I think we're there."
"It will take a few seasons to get back to the scale we want to be at," added George Steel, the company's general manager and artistic director. "But that future is going to be built on a stable present."
Mr. Wall replaces Susan Baker, who served as chairman since December 2003. Ms. Baker had a rocky tenure, presiding over City Opera's failed plans to leave Lincoln Center; its ill-fated attempt to appoint Gerard Mortier its new director; and its recent raids on its endowment, which fell from $57 million to $16 million under her leadership, to pay operating expenses. Under Mr. Steel, who arrived last year, artistic values have been consistently excellent, but the retrenchment has continued; in January, the company announced that it was ceding several weeks of its fall season to New York City Ballet, which shares the opera's home at Lincoln Center.
Prodigious fundraising seems to be the only way out, and Mr. Steel has identified growing the board as one of his main priorities; in addition to Mr. Wall there have been five new members appointed during Mr. Steel's tenure. Mr. Wall agreed that the board should grow, but personally was inclined to rely on recruiting old colleagues and friends.
"I'll have to ponder that," he said when asked about strategies for bringing on younger donors. "I've always recruited people I've known for years, with whom I've had a business relationship or social relationship because I generally found it's easier to be in touch with them. They know you, and you know them. Assuming they have financial wherewithal, it usually works out pretty well. As far as broader people, I don't know."
From 2008 to this past February, Mr. Wall served as general counsel of Philip Morris International, the tobacco company. He had previously worked since 1990 as an executive at Altria Group, then Philip Morris' corporate parent and a longtime supporter of City Opera. Soon after being named Altria's general counsel in 2000, he took the seat the company occupied on the opera's board.
Mr. Wall's career in the tobacco industry–the opera blog Parterre Box quoted his 1996 statement referring to the "purported 'addictive' qualities of cigarettes"–perpetuates questions about the business and political dealings of major cultural donors that have been recently raised by profiles of David H. Koch, the namesake of City Opera's theater. Articles in New York and The New Yorker demonstrated the environmental problems of companies Mr. Koch owns, as well as his involvement in funding the Tea Party.
"We would be naive if we didn't think that people look at who is supporting various organizations with their contributions or their time," Mr. Wall said. "Having said that, I think the public who loves opera, who loves classical music, who loves culture and the arts, is very tolerant of a wide swath of views within the American political scene…That doesn't mean, and I want to emphasize this, that if someone is way outside of the mainstream that may not have a significant negative impact, but I don't think that's the case with New York City Opera or with most of the cultural institutions in New York City. I think people know about my connections with the tobacco business and David's connections with his politics, all of which I think are well within the tolerable limits and acceptability for major theatergoers in New York City and throughout the country. I don't think there's anything particularly controversial."
Before coming to New York and beginning to go to City Opera, Mr. Wall said his performing arts attendance was mainly at the St. Louis Municipal Opera, known, he said, "for its Rodgers and Hammerstein performances." At City Opera, he identified as memorable performances Romberg's operetta The Student Prince and A Little Night Music.
"La Boheme is everybody's favorite," he added. "How could you not like that?"
zwoolfe@observer.com